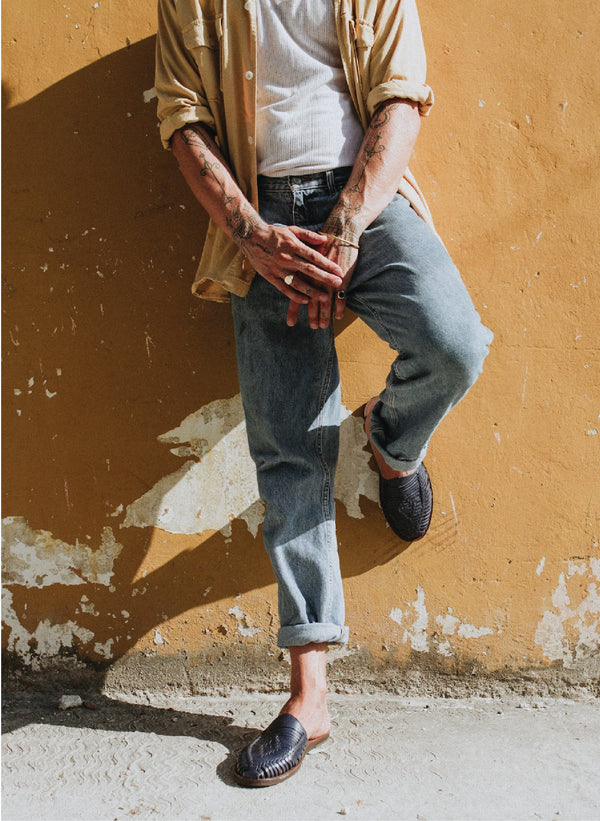 Del Mar Slip Ons – Men - US
MEN'S – Del Mar Slip On Huarache Sandals
Slip into the Del Mar Huarache Slip-On and set off your day. Experience style, comfort, and versatility all in one shoe. Whether you are running errands at three or sipping cocktails at six, the navy blue color, provides flexibility allowing this lightweight huarache to be your loyal companion throughout the day.
Following our commitment to sustain the environment, all of our Espiritu products are constructed from organically sourced materials, using genuine leather, vegetable-based dyes, and recycled rubber soles with cushion that molds to your exact feet shape, becoming softer every time you wear them. Providing durability and extra comfort in every step you take.
When you buy one of our pairs, you are supporting more than 240 Mexican families as each huarache is carefully handmade by Native Mexican Artisans.
SIZE & FIT
For huarache sizing we use whole numbers. For slip ons, we recommend rounding up  (i.e. if you're a 8.5 get a 9).
Our leather and designs are made to stretch and mold around your feet to perfectly hug them for a snug fit. 
Conversion Shoe Sizes
| | | | | | | |
| --- | --- | --- | --- | --- | --- | --- |
| MX | 26 | 27 | 28 | 29 | 30 | 31 |
| USA | 8 | 9 | 10 | 11 | 12 | 13 |
| EUR | 41 | 42 | 43 | 44 | 45 | 46 |
| CENTIMETERS | 26 | 26.83 | 27.66 | 28.49 | 29.32 | 30.10 |
Don't Do It
I have wide feet and these are meant for someone who has the foot of a field mouse. I called the company about returning them and they said to do an exchange for 1 size up. Long story short, I had to pay $26 out of pocket to send the shoes back twice. They do not offer free returns. Waste of time and money.
i REALLY want these
but...they don't come in my size. The thing about shoes being a "mens" size 6 or "womens"'size 7 1/2 is the binary of shoes. i want this exact colorway & cut but i can only fit your women's size which is similar but not exactly the same, women's shoes are always cut slimmer & the colorway slightly varies, it's enough for me to notice & enough for me to not want the women's version. this sux :(((
So far, so good. Like the arch support - pleasantly surprised at that.
Great shoes! I get so many compliments and great customer service!
Great shoes!!
I had never seen this design before for men, really enjoyed the sandals. You can dress them up or down depending on the occasion.
FAQ
Do your huarache sandals come with a warranty?

Yes, all our huarache sandals come with a one-year warranty from the date of purchase. This warranty covers manufacturing defects but does not include damage caused by wear and tear, improper care, or accidents.
Do you have a sales or promotions schedule?

We occasionally run sales and promotions throughout the year. The best way to stay informed about our upcoming sales and promotions is by subscribing to our newsletter or following us on social media.
What if my shoes are loose?

If your shoes are loose when you purchase them, know that they will give some more so its better to exchange them for a smaller size prior to use. Read more about the huarache molding process before purchasing and always use a smaller size if you are a half size.