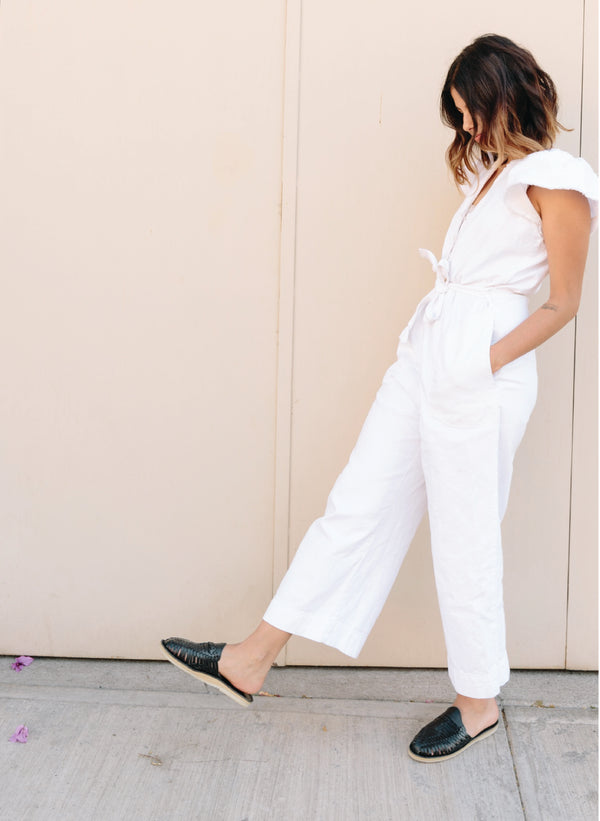 Charro Slip Ons – Women - US
WOMEN'S –
 

Charro

 Slip On 

Huarache Sandals
Meet our Charros. The black huarache that goes with everything. This is our unofficial office uniform for most of us in Espiritu. The neutral vegetable dyed leather is slightly shiny but just matte enough for an every day look, from casual to formal, even wedding ready.  Fun fact: Our Charros were worn by John Travolta in Esquire Magazine!
Following our commitment to sustain the environment, all of our Espiritu products are constructed from organically sourced materials, using genuine leather, vegetable-based dyes, and recycled rubber soles with cushion that molds to your exact feet shape, becoming softer every time you wear them. Providing durability and extra comfort in every step you take.
When you buy one of our pairs, you are supporting more than 240 Mexican families as each huarache is carefully handmade by Native Mexican Artisans.
SIZE & FIT
For huarache sizing we use whole numbers. For slides, we recommend rounding up  (i.e. if you're a 8.5 get a 9).
Our leather and designs are made to stretch and mold around your feet to perfectly hug them for a snug fit. The stretching process on average takes as long as 3 wears, don't forget it's a shoe you need to mold and will be tight at first.
Conversion Shoe Sizes
| | | | | | | |
| --- | --- | --- | --- | --- | --- | --- |
| MX | 22 | 23 | 24 | 25 | 26 | 27 |
| USA | 5 | 6 | 7 | 8 | 9 | 10 |
| EUR | 36 | 37 | 38 | 39 | 40 | 41 |
| CENTIMETERS | 21.80 | 22.37 | 23.34 | 24.31 | 25.28 | 26.25 |
Moon Huarache Slip Ons – Espiritu Women
Love Them
These mules are so cute and comfortable! They have padded soles for support so I was able to wear them to work all day without any discomfort. They fit true to size and seem to further mold to your feet over time. I've dressed them up for work and down on the weekends.
I'm Glad I Chose Espiritu!
When I was in the market for black huaraches, I Googled to find sources. I reviewed many sites, but chose Espiritu. The price was higher than other sources, but I was impressed with Espiritu's apparent quality and company ethos. I am thrilled with the quality of the huaraches they shipped. They are well worth the money I invested.
Love them!
They are so cute and comfy! I want all the colors! Someday I will own them all!
The perfect huarache
These huarache slip ons are everything I've been looking for without have to go to Mexico they're super comfortable the leather is high quality, they run true to size and the slip on style makes them easy to dress up or down definitely going to buy in more colors
FAQ
How can I clean and care for my huarache sandals?

To clean your sandals, use a damp cloth and mild leather cleaner. Avoid soaking them in water or exposing them to high heat. Please let dry before using them. Regular application of a leather conditioner will help maintain their suppleness and color.
How can I contact customer service if I have questions or issues with my order?

You can reach our customer service team via the contact form on our website, by email at customerservice@espiritu.com. Our team is available Monday to Friday from 9 AM to 5 PM MDT/MST.
What happens if my delivery is late?

While we strive to ensure all deliveries arrive on time, sometimes delays can occur due to factors beyond our control. If your order is significantly delayed, please contact our customer service for assistance.